Electronic
circuits
schematics
diagrams
FreeCircuits.net


Telephone Ring Generator Using Small Power Transformer
By Bill Bowden
This ring generator will ring a telephone once every 10 seconds.
The interval between rings can be lengthened or shortened by varying the value of the 1 Meg resistor. The 70 volt/ 30 Hz ring voltage is produced from the 120 volt side of a small 12.6 VAC power transformer (Radio Shack 273-1365). Both capacitors connected across the transformer windings are non-polarized / 100 volts. Circuit draws about 300mA from the 12 volt DC power supply during the ringing interval.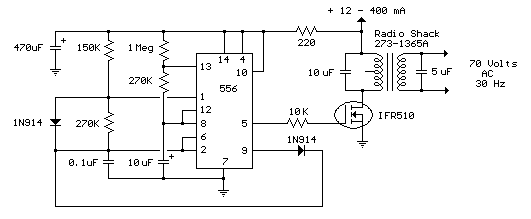 Telephone Ring Generator Using Small Power Transformer circuit

2399

22 August 2007
See also:
Автосервисы Москвы
в одном месте.